Flighty creature that I am, I have lost interest in this blogging lark already. Partly this is because I have other things I want to put my energy into. But also, I have come to the conclusion that I much more enjoy reading other people's blogs than writing one.
I read a lot, but in spite of having a huge backlog of books to get through, I can't stop buying more. This is my latest batch.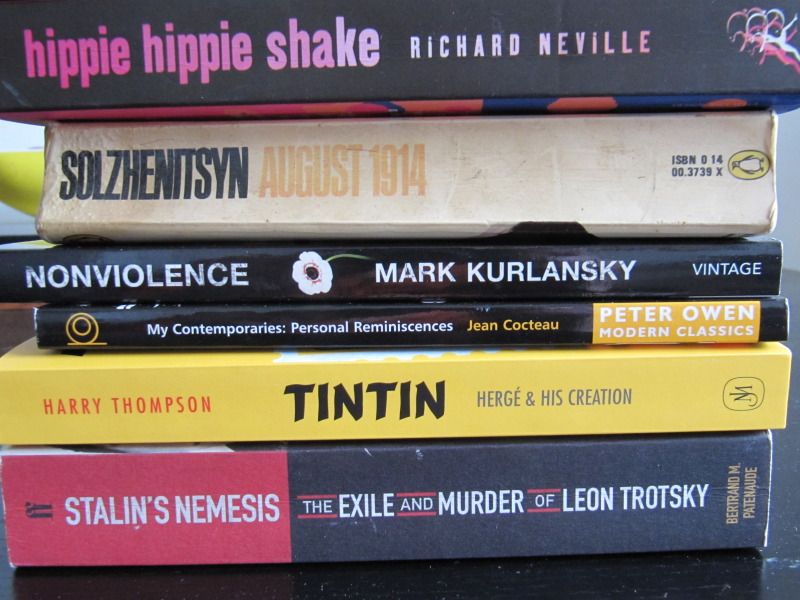 I thought the Solzhenitsyn might be hard going, but I had a quick glance through and it seems a pretty easy read. Though perhaps not as easy as Tintin.
And on Monday night I met local bestselling crime writer
R J Ellory
and so have added another book to my stash, and even more to my 'must-read' list. At the rate I'm going, I will end up in a Channel 4 documentary before long. *Sigh*
Anyway, a couple of weeks ago, I was browsing Oxfam's online website when I came across this book.
The blurb on the back says "During the last six years of her life, the philospher, feminist, novelist and author of the landmark work
The Second Sex
, gave Deirdre Bair her unqualified co-operation and time. In interviews she provided new insights and material that are central to understanding her life and work".
I've always been fascinated by Beauvoir. It's true she didn't always practice what she preached, but then neither do I. And she always looked so stylish. (Yes, I am that shallow.)
In her excellent biography of Beauvoir, Lisa Appignanesi describes her own feelings growing up about the relationship between Beauvoir and Sartre, saying "They were the Humphrey Bogart and Lauren Bacall of the intellectual world, partners in a gloriously modern love affair". Just how I felt. So you can imagine my disappointment when the book turned up, and the text was in the tiniest font imaginable. Glasses, I hear you say? Glasses? I would need the bloody Hubble Telescope to read it!
So for now at least, Beauvoir's new insights will have to remain a mystery to me. However, there's another mystery. Whilst I was flicking through the book and muttering darkly, a loose photograph fell out.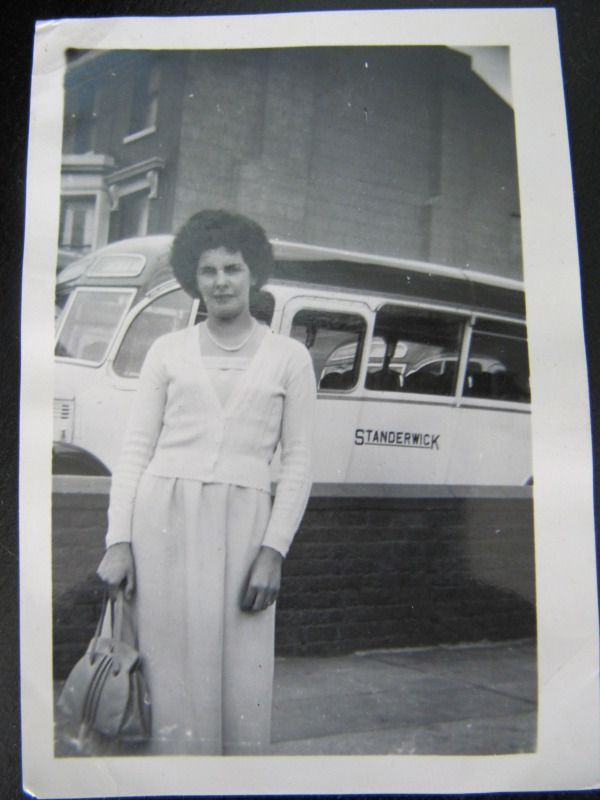 There's no date or name on the back, but I would love to know who had the book before me, and whether this is a photo of them or a relative, and were they using the photo as a bookmark, or did it get in there by accident?
I was in two minds whether I should post some-one's photo without their permission. But a check of the bus in the background reveals it dates back to the 1960s, and the woman looks happy, so I thought it would be OK. But if you know this woman, or indeed are she, let me know and I will take it down.
Anyway, that's it, at least for the time being. Take it away Lloyd!